Posts tagged
light rail
Due to societal and technological trends, our mobility system and patterns might change. New modes are entering (and leaving) the market, while conventional modes are improved. In this workshop we looked to the future of public transport from the perspective of authorities and operators. The city of The Hague and the Dutch railways (NS) shared their visions on the public transport of the future.
Find the general workshop presentation HERE
Find the presentation of Emile Jutten (City of The Hague) on the national and regional vision on public transport HERE and an animation of the vision HERE
Find the presentation of Mark Oldenziel (NS) on the short term innovations and plans of the railways HERE and an animation of the vision HERE
Possibilities for the application of Light Rail Transit (LRT – light rail, tramway) as high-quality public transport in cities, urban regions are countless. Our article opens with the question about the specific characteristics of LRT. Then the question is asked which comprehensive argumentation LRT projects can justify. Finally, we examine the question of how these types of projects can be realized. Each of these three questions – What? Why? How? – is addressed on the basis of a set with two LRT main cases, respectively from the Netherlands and Japan.
Read the full article by Rob vd Bijl, Kiyohito Utsunomiya and Niels van Oort HERE
Light rail has several potential benefits, both from a mobility and urban quality perspective. However, not all light rail systems are a success and there is much debate about the costs. Niels van Oort, co-director of the Smart Public Transport Lab at TU Delft, investigated 61 cases worldwide and will share his findings on the wider benefits of light rail.
Find the presentation of the Spårvägsforum 2019 in Uppsala HERE
Stedelijke openbaar vervoer, zoals light rail, draait om veel meer dan alleen 'vervoer', 'vervoerswaarde', of 'snelheid'. In deze paper wordt gepoogd light rail (en ook hoogwaardige bus) in een omvattend, maatschappelijk perspectief te plaatsen, teneinde de bredere baten voor steden te kunnen achterhalen.
Lees meer in het CVS paper met Rob van der Bijl: paper en presentatie
In de Masterclass van het Ministerie van Infrastructuur en Waterstaat buigen Henk Meurs (Radboud Universiteit Nijmegen) en Niels van Oort (Technische Universiteit Delft) zich over ontwikkelingen in het openbaar vervoer. 'Het is aan ons, wetenschappers, om de ontwikkelingen, effecten en kansen in het OV in kaart te brengen. IenW kan met pilots een aantal lessen leren om MaaS te stimuleren. IenW-ers moeten niet onderschatten welke voorbeeldrol ze vervullen.'
Bekijk het interview en de presentatie
Op woensdag 30 mei organiseerde de Rli naar aanleiding van zijn advies een symposium. Tijdens dit symposium is het advies toegelicht en met betrokkenen uit de mobiliteitswereld besproken. Daarbij wordt stilgestaan bij de toekomst van mobiliteit en infrastructuur, de bestuurlijke praktijk en bij innovatie en verduurzaming van ons mobiliteitssysteem.
Vind alle bijdragen en verslag HIER
De presentatie over de toekomst van mobiliteit van Niels van Oort vind je HIER
De waarde van openbaar vervoer wordt vaak te beperkt in beeld gebracht. Het draait vaak alleen om kosten van infrastructuur en exploitatie. Waarom eigenlijk? De waarde van ov is meer dan alleen de vervoerwaarde. 5xE is een betere manier om het ov op waarde te schatten voor Effectieve mobiliteit, een Efficiënte stad, Economie, milieu (Environment) en sociale cohesie (Equity).

Lees hier het artikel in OV-Magazine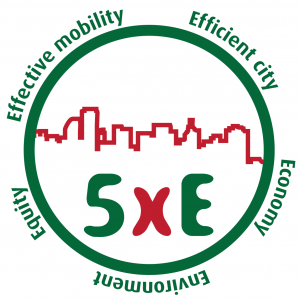 In recent years, state-of-the-art public transport, including light rail, has seen strong worldwide growth. Increasing numbers of different types are emerging, both on the drawing board and on the streets. What lessons can we learn from all of these ideas and projects? Rob van der Bijl, Bert Bukman and Niels van Oort conducted research into 47 light-rail projects in the Netherlands and elsewhere and wrote a book on this entitled, 'Investeren in de stad. Lessen uit 47 light rail projecten ' ('Investing in the city. Lessons from 47 light-rail projects'). On this special Transport Thursday, they will be sharing their most important lessons and experiences (from decision-making through to operation) in achieving successful state-of-the-art public transport, a key driver in our new smart cities.
Check our presetation: Transport Thursday Van Oort 2015