Posts in category
Uncategorized
The Smart PT Lab made the following contributions to the Colloquium Vervoersplanologisch Speurwerk (CVS) in Brussels (23-24 Nov 2023):
Potential Impacts of Shared Bike-Transit Integration on Equity in Job Accessibility
Quanyi Wang, Hans Voerknecht, Matthew Bruno
Vervoersarmoede op wijkniveau in de metropoolregio Amsterdam: Relevantie van sociaaleconomische- en gebouwde omgevingsfactoren
Thijs Bon, Matthew Bruno, Niels van Oort
Reizigersvoorkeuren voor (nieuwe vormen van) voor- en natransport naar stations en OV-haltes
Nejc Geržinič, Mark van Hagen, Niels van Oort
De deelscooter trein combinatie: Factoren die het gebruik als voor- en natransportmiddel beïnvloeden
Gert de Wit, Cathelijn Dijk en Niels van Oort
In het openbaar vervoer is nog maar weinig bij het oude. Ontwikkelingen als elektrificatie, automatisering en deelmobiliteit hebben hun impact op vraag én
aanbod. Behalve vlot en veilig moet het ov ook groen en inclusief zijn. En dan is er de nog altijd voelbare impact van covid-19. Om op dit speelveld de juiste keuzes te maken, heeft het ov nieuwe inzichten en nieuwe tools nodig. Zie hiervoor mijn (geactualiseerde) onderzoeksagenda.
The world of public transport is changing rapidly. Developments such as electrification, automation, and shared mobility have had an impact on both demand and supply. Besides being smooth and safe, public transport must now also be green and inclusive. And then there is the still tangible impact of Covid‑19. To make the right choices in this evolving landscape, we need new knowledge and new tools. Find my (updated) Research Agenda.
Learn more about our research and findings regarding inclusive mobility: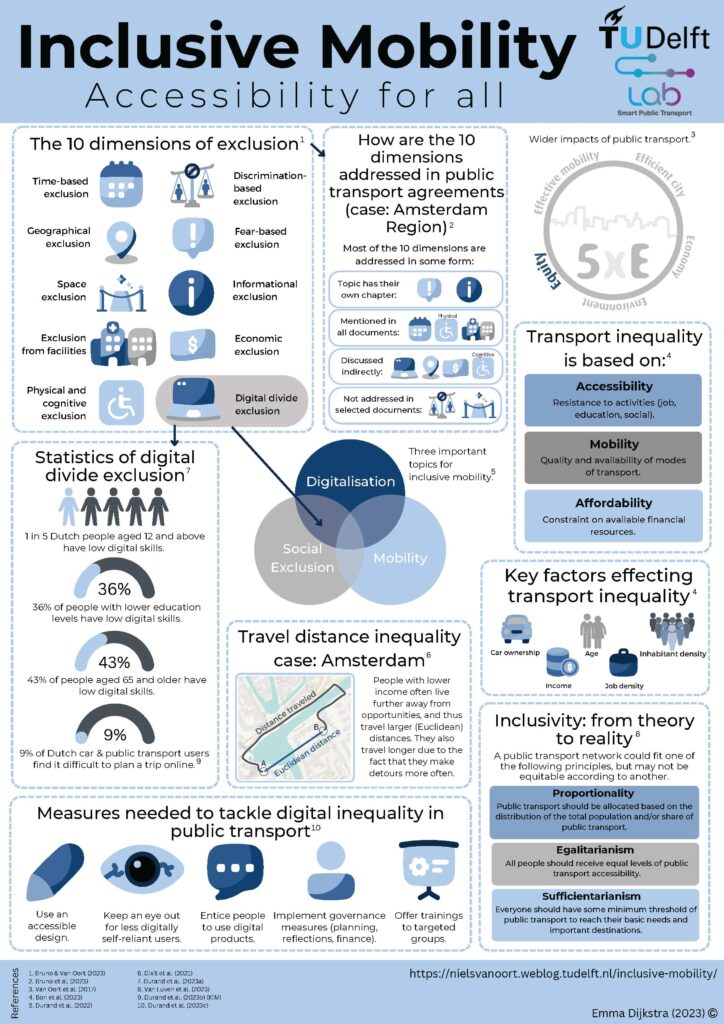 Download the infographic HERE
References
Bruno, M., and N. Van Oort (2023) The ten dimensions of transport related social exclusion, position paper
Bruno, M., Kouwenberg, M., & van Oort, N. (2024). Evaluating How Transportation Policy Addresses Transport Related Social Exclusion: A Novel Method Applied to the Amsterdam Transport Region. Transportation Research Board (accepted).
Van Oort, N., R.A.J. vd Bijl, F.C.A. Verhoof (2017), The wider benefits of high quality public transport for cities, European Transport Conference, Barcelona.
Bon, T., Bruno, M., & van Oort, N. (2023). Transport poverty in the Amsterdam metropolitan area: Relationships with socioeconomics and the built environment at the neighborhood level. (thesis; paper under review).
Durand, A., Zijlstra, T., van Oort, N., Hoogendoorn-Lanser, S., & Hoogendoorn, S. (2022) Access denied? Digital inequality in transport services, Transport Reviews, 42:1, 32-57
Dixit M., Chowdhury S., Cats O., Brands T., van Oort N. and Hoogendoorn S. (2021). Examining circuity of urban transit networks from an equity perspective, Journal of Transport Geography, Volume 91, 102980.
Durand, A., Zijlstra, T., Hamersma, M., van Oort, N., Hoogendoorn-Lanser, S., & Hoogendoorn, S. (2023). "Who can I ask for help?": Mechanisms behind digital inequality in public transport. Cities, 137, 104335
Van Luven, M., N. van Oort, O. Cats, M. Bruno, M. Kouwenberg (2023), How to achieve an equitable distribution of accessibility by evaluating and modifying public transport networks: a comparison of accessibility distribution principles in the Netherlands, European Transport Conference, Milano.
Durand, A., Hamersma, M., Rienstra, S. (2023). Use and perceived effects of digital travel information for car and public transport travel. Brochure. The Hague: Netherlands Institute for Transport Policy Analysis (KiM).
Durand, A., Zijlstra, T., Hamersma, M., van Oort, N., Hoogendoorn-Lanser, S., & Hoogendoorn, S. (2023). Fostering an inclusive public transport system in the digital era: an interdisciplinary approach. (under review)
De plannen om de trein in de spits veel duurder te maken, riep o.a. de tegenreactie op voor gratis ov.
OneWorld schreef dit stuk over deze vraagstukken, inclusief kleine bijdrage van mij. Hieronder deel ik nog enkele extra punten.
Gratis ov klinkt sympathiek, maar leidde tot nog toe nergens tot (de vaak verwachte) grote verschuiving van auto naar ov. Er worden wel veel extra kilometers gemaakt, vaak ten koste van fietsen en lopen, en de kosten zijn vaak hoog. Die benodigde investering kan dan niet voor verbeteringen v.w.b. ov infrastructuur of exploitatie worden gebruikt.
Effectievere maatregelen voor een inclusiever en duurzamer mobiliteitssysteem bestaan zowel aan de ov als auto-zijde: meer snelle, comfortabele, betrouwbare verbindingen enerzijds en bijv. kilometerheffing anderzijds.
Betaalbaarheid is essentieel voor een inclusief mobiliteitssysteem, maar betaalbaar is niet hetzelfde als gratis voor iedereen. Gratis OV kan wel zinnig zijn, maar dan voor specifieke groepen en locaties, zoals we al zien voor bijvoorbeeld studenten of bepaalde groepen in Nederlandse steden. Soms is het makkelijk maken van reizen, geen gedoe voor kiezen en kopen van een kaartje, een goed argument voor gratis ov.
Het idee voor veel duurdere treinkaartjes in de spits is vanuit economisch perspectief te begrijpen (het beprijzen van schaarste), maar minder als we ov ook vanuit een maatschappelijke perspectief, zoals duurzaamheid of inclusiviteit, bekijken. Niet iedereen heeft invloed op zijn of haar reismoment of kan thuiswerken. Als de ov spits duurder wordt en de autospits niet, is er ook een verschuiving naar de auto te verwachten.
Kortom, liever goed en betaalbaar ov dan gratis ov!
---
Every year in the advanced public transport course, students write an essay on the future of public transport. Passenger association ROVER selects the best one according to the passengers' perspective. The authors of the winning essay are invited to record a podcast with Geert Kloppenburg in his Metroplitan Podcast series.
2022
Find the winning essay of Hugo Odijk and Tim de Ridder: HERE
Listen to their podcast: HERE
2021
Find the winning essay of Monica van Luven and Stavros Xanthopoulos: HERE
Listen to their podcast: HERE
Mobiliteitshubs lijken het nieuwste wapen in de strijd om mobiliteit duurzamer en aangenamer te maken. Maar voor wie maken we die hubs?
Lees het hele onderzoek van Jarco Vianen HIER
Bijdrage aan EenVandaag reportage over de toekomst van OV, met resultaten uit ons Corona onderzoek TU Delft ism NS over structurele gedragsveranderingen. Ook pleidooi voor bredere blik op de waarde van OV, met oa aandacht voor duurzaamheid en inclusiviteit:
Meer inzichten uit ons Corona onderzoek: HIER
This podcast and book chapter discuss the elements of service reliability, the impact of service reliability on passengers, indicators that are used to measure reliability and variability, and how to make improvements. In this episode of the podcast Niels van Oort talks about the research behind the handbook chapter, including his PhD thesis and subsequent work. Some of the topics discussed are: the factors that can impact service reliability; the need for perspectives across strategic, tactical and operational levels; and bridging the gaps between front-line staff, management and researchers.  Data sets, modelling and the practicality of optimal solutions are also discussed.
Learn more via http://publictransportresearchgroup.info/portfolio-item/rt35-niels-van-oort-public-transport-reliability/