Posted in
June 2016
The development of self-driving solutions is growing exponentially. Major industries are developing vehicles, sensors and mapping systems that help to achieve the goal of driverless mobility. How can we prepare the city for these self-driving solutions? And in what ways can a city benefit from these solutions? What are the possibilities and challenges of the realization of the self-driving car as a last-mile option in Amsterdam?
Part of the discussion was on the (new) role of public transport: will it dissapear completely of will business remain as usual? Major question is what do we want to achieve in our cities and what means do we have to get to that point? We should look at the strengths of all modes and find the optimal mix. Stop to stop mass transport is the stregth of public transport, the bike plays a major role in short distances and access to these stops. So the first potential role for automated vehicles might be in egress transport?
See the presentations and discussion HERE
De waarde van openbaar vervoer wordt vaak te beperkt in beeld gebracht. Het draait vaak alleen om kosten van infrastructuur en exploitatie. Waarom eigenlijk? De waarde van ov is meer dan alleen de vervoerwaarde. 5xE is een betere manier om het ov op waarde te schatten voor Effectieve mobiliteit, een Efficiënte stad, Economie, milieu (Environment) en sociale cohesie (Equity).

Lees hier het artikel in OV-Magazine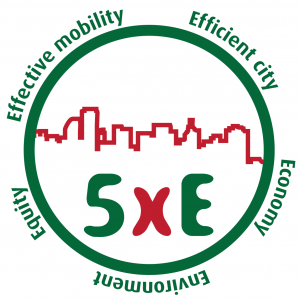 Het Nederlandse spoorwegennet van 1839 – 2039 (zowel voor reizigers als goederen) met Maurits van Witsen, Max Philips en Niels van Oort
Niet alleen in de samenleving, maar ook in onze sector gaan de ontwikkelingen in een hoog tempo. Niet alleen door de komst van computergestuurde auto's en 'Internet of Things' maar ook door de ontwikkeling van het, deels gedecentraliseerde spoorwegennet, de veranderende goederenstromen, de klimaatveranderingen en de steeds wijzigende relatie van de overheid met de vervoerbedrijven. De leden van Railforum kijken regelmatig vooruit. We verkennen verschillende scenario's en stellen gezamenlijk toekomstbeelden op. Maar hoe goed zijn we op de hoogte van de historische achtergronden?
Maurice Adams zei ooit: "Wie de ogen sluit voor het verleden, is blind voor de toekomst".
Dus vandaar dat Railforum in samenwerking met de NVBS, conform de Spoorcolleges tijdens de SpoorParade in 2014, vier bijeenkomsten organiseert waar diverse experts lezingen geven. Accent ligt op de geschiedkundige context van, en een doorkijk naar nieuwe ontwikkelingen. Aansluitend is er ruimte voor vragen en is er een netwerkborrel. Bij het uitnodigen letten we extra op de vier verschillende generaties in onze sector, zodat specifieke kennis en de historische context daarvan wordt overgedragen aan de bouwers van onze toekomst.
Zie de slides HIER
en een kort verslag van OV-PRO HIER