Posts tagged
inclusive mobility
Transport Related Social Exclusion (TRSE) looks at how people who are socially disadvantaged for reasons such as employment status, income, age, or ability, can face limitations in their ability to access transportation services. As income is only one of these factors, people can experience TRSE without having a low income (Yigitcanlar et al., 2018). Rather, social exclusion is defined by an exclusion from economic life, social services, civic life, and social networks (Spoor, 2013). TRSE looks at how elements of the transportation system contribute to this exclusion (Yigitcanlar et al., 2018).
This figure provides an overview of 10 dimensions of Transport Related Social Exclusion, further explained (incl. references) in the position paper of Bruno and Van Oort (2023).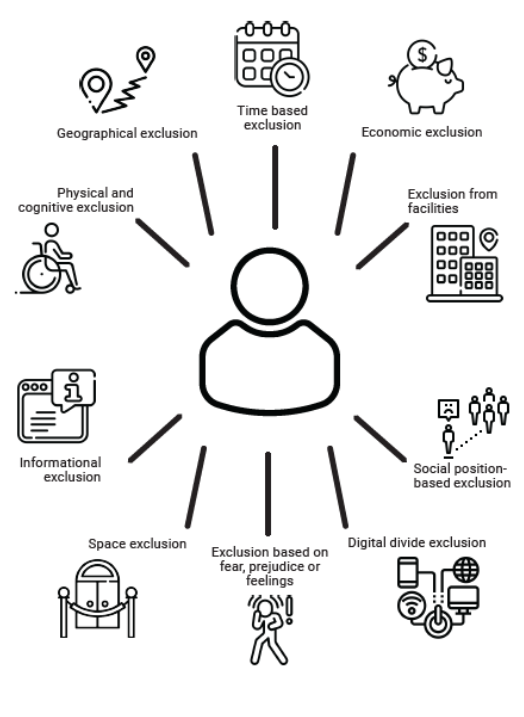 The true value of public transport is often underestimated systematically while assessing transit impacts of proposed projects. During the planning and assessment of new or improved connections, infrastructure or services, often only the costs of operations, construction and the revenues with regard to fares and travel time savings are accounted for. This approach provides insights into the performance of public transport to some extent, but disregards many other (positive) effects the provision of public services has. Many of which impose an advantage over competing modes of transport. This could result in the postponement or even cancellation of plans, as means are scarce and invested where gains are directly visible. Thus, to enable a fairer assessment of public transport plans, more insight is required into the wider benefits of its operations and impacts on passengers and the environment.
To gain these insights, we developed a methodology to quantify the value of public transport using the five E's: Effective mobility, Efficient city, Economy, Environment and Equity. Together these aspects provide a better indication of all potential benefits of public transport.
Read more in this ETC 2017 conference paper.