Posts tagged
cost benefit analysis
De waarde van openbaar vervoer wordt vaak te beperkt in beeld gebracht. Het draait vaak alleen om kosten van infrastructuur en exploitatie. Waarom eigenlijk? De waarde van ov is meer dan alleen de vervoerwaarde. 5xE is een betere manier om het ov op waarde te schatten voor Effectieve mobiliteit, een Efficiënte stad, Economie, milieu (Environment) en sociale cohesie (Equity).

Lees hier het artikel in OV-Magazine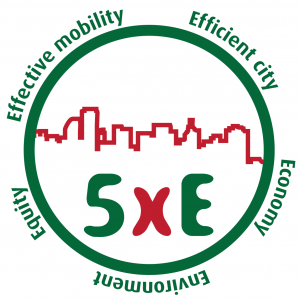 Big Data also enter the railway industry. Board computers, passenger smart cards and cell phones provide valuable data to enhance design of networks and timetables. Big Data supports the improvement of transport models and cost benefit analyses (CBAs). An example of success was the approval of a new light rail in Utrecht, the Netherlands. It was not common use to consider reliability benefits explicitly, but in this case they were responsible for the positive cost benefit ratio.
Find my presentation at the Railsummit 2016 HERE
Rail summit website
Despite the importance of robust public transport networks, this topic has not been considered from a full passenger perspective yet in scientific literature and practice. To our best knowledge, this study is the first in which both exposure to large, non-recurrent disturbances and impact of these disturbances are analysed in a systematic and realistic way. Contrary to single-level network perspectives, we considered the integrated, total multi-level public transport network which remains available when a disturbance occurs. We developed a new methodology to identify the most vulnerable links in the multi-level public transport network and to quantify the societal costs of non-robustness of these vulnerable links. Besides, applying our methodology enables quantification of the robustness benefits of robustness measures, next to the costs of such measures. Therefore, our methodology can support and rationalize the decision-making process of public transport operators and authorities regarding the implementation of different robustness measures.
Read the full paper: INSTR2015-Yap et al.
Find our presentation: INSTR2015 Presentation Yap et al.
Verstoringen in het openbaar vervoer hebben een grote impact op reizigers. Zowel reizigers, overheden als politiek hechten daarom veel belang aan robuust openbaar vervoer. Ondanks dit belang was tot nu toe niet bekend wat de (maatschappelijke) kosten van verstoringen in het OV zijn. Bij mogelijke maatregelen ter verbetering van OV robuustheid zijn vaak alleen de kosten bekend, terwijl de maatschappelijke robuustheidsbaten ervan tot op heden onbekend waren.
Wij hebben een methodologie ontwikkeld waarmee we, ondersteund door OV verkeersmodellen, de maatschappelijke kosten van onrobuust OV, en de maatschappelijke baten van robuustheids–maatregelen, kunnen kwantificeren. Wij bekijken OV robuustheid vanuit een reizigersperspectief. Tot op heden wordt robuustheid door wetenschap en praktijk vaak per vervoerder, of per netwerkniveau, benaderd. Wij richten ons echter op robuustheid van multi-level OV netwerken, waarbij we alle OV netwerkniveaus, alle OV modaliteiten van alle vervoerders integraal analyseren. Door simulatie van verstoringen in een multi-level OV model kunnen we in kaart brengen in hoeverre het totale OV netwerk in staat is om, vanuit de reiziger bezien, een verstoring op een bepaald netwerkniveau op te vangen.
Een belangrijk aspect bij grote verstoringen in het OV is het gereduceerde comfort op alternatieve routes. Door een verstoring kan grote drukte ontstaan op resterende routes die in het multi-level netwerk beschikbaar zijn, wat leidt tot verminderd reiscomfort, en waarbij reizigers soms zelfs niet met het eerste voertuig meekunnen. Dit comfort- en capaciteitseffect wordt tot op heden nauwelijks meegenomen in OV verkeersmodellen. Recente ontwikkelingen in het softwarepakket OmniTRANS maken het echter mogelijk om deze effecten mee te nemen bij het modelleren van verstoringen, waardoor de maatschappelijke kosten van discomfort gekwantificeerd kunnen worden. Het niet meenemen van deze post kan leiden tot substantiële onderschattingen van de maatschappelijke kosten van verstoringen.
Onze methodologie kwantificeert, door nieuwe toepassingen van OV verkeersmodellen, naast de kosten ook de baten van mogelijke robuustheidsmaatregelen. Hiermee ondersteunt en rationaliseert onze methodologie besluitvorming van vervoerders en OV autoriteiten.
De presentatie vind je hier: Platos 2015
De klachten van reizigers tijdens de sneeuwproblematiek in het openbaar vervoer de afgelopen jaren, Kamervragen over het hoge uitvalpercentage van de Intercity Direct en discussies over spooronderhoud in de Schipholtunnel maken één ding duidelijk: het belang van robuust openbaar vervoer. Desondanks richten discussies over robuustheid zich alleen op de kosten van robuustheidsmaatregelen. Tot op heden wordt nauwelijks gefocust op de waarde van robuustheid: wat zijn de robuustheidsbaten van de maatregelen en wat is die robuustheid waard?
In deze paper hebben we een methodologie ontwikkeld die ons in staat stelt om de maatschappelijke waarde van robuust openbaar vervoer te bepalen, in aanvulling op reeds vastgestelde tijd- en betrouwbaarheidswaarderingen. Robuustheidsbaten van maatregelen kunnen hiermee worden gemonetariseerd, en afgewogen worden tegen de benodigde kosten. Hiermee ondersteunt deze methodologie besluitvorming aangaande de implementatie van robuustheidsmaatregelen.
In deze paper wordt robuustheid vanuit een reizigersperspectief benaderd. Op dit moment wordt robuustheid door wetenschap en praktijk vooral vanuit een mono-level perspectief benaderd: voor elk netwerkniveau en elke modaliteit apart. In dit onderzoek richten we ons echter op robuustheid van het totale multi-level openbaar vervoer netwerk, waarbij alle openbaar vervoer netwerkniveaus en alle modaliteiten (trein, metro, lightrail, tram, bus) van verschillende vervoerders integraal worden geanalyseerd. Hierdoor kan inzichtelijk worden gemaakt in welke mate netwerkniveaus een verstoring op een ander netwerkniveau kunnen opvangen, en wordt op realistische wijze inzicht verkregen in de effecten van verstoringen op reizigers.
In dit onderzoek is eerst een nieuwe methodologie ontwikkeld om de meest kwetsbare plaatsen in het multi-level netwerk te identificeren. Door zowel verstoringskansen, verstoringsduur als verstoringsimpact expliciet in beschouwing te nemen, kan vervolgens de mate van onrobuustheid van deze kwetsbare netwerkdelen worden gekwantificeerd. De ontwikkelde methodologie is succesvol toegepast op de Randstad Zuidvleugel als casestudy. De resultaten illustreren dat vanuit een reizigersperspectief ruimte is om robuustheid van openbaar vervoer netwerken te verbeteren. Met name tijdelijke lijnvoeringmaatregelen (zoals een tijdelijke frequentieverhoging op een route parallel aan een kwetsbaar netwerkdeel) en kleine infrastructurele maatregelen hebben maatschappelijk gezien potentie om robuustheid verder te verbeteren. In de casestudy wegen robuustheidsbaten van grotere infrastructurele maatregelen (zoals de aanleg van extra wissels) tijdens verstoringen niet op tegen de kosten voor reizigers en vervoerders tijdens de onverstoorde situatie.
Uit de casestudy blijkt dat het niet eenvoudig is om vooraf de waarde van verschillende maatregelen te beoordelen. Onze aanpak helpt dit proces te verbeteren en biedt robuustheid daarbij een plek in de besluitvorming.
Lees meer:
Paper Menno Yap CVS2014 of
Presentatie
The need for viable, cost effective and attractive public transport in high-density areas is immanent. Transport Authorities have a responsibility to foster innovations in urban transport and look at smart replies to match the growth of demand for quality mass transit. A good living climate, economic efficiency, social inclusion, sustainability and competitiveness depend on the capacities of a city to invest in high quality transport services. The authors of this paper explain what especially in urbanised areas should be main reasons to persuade cities to improve accessibility and liveability by engage and develop a light rail solution. It comes down to a very basic question: "why light rail?" or more in general "why chose for high quality public transport?".
In a thorough evidence-based description Rob van der Bijl and Niels van Oort demonstrate how it has been overlooked that light right rail does not only provide benefits that are obvious to all, like speed and comfort,
but that in cost-benefit terms also reliability of service should be valued in money. Efficiency benefits
thereby are incomplete and therefore impeded chances on smart light rail realisation. If taken into
account the social context of projects and awareness of the influence of the difference in types of
legal context, governance and institutional legacy a transformation of urban networks by light rail
can be an asset to spatial urban revival. The Light Rail can be an impetus to the urban quality of
life and more importantly provide a sustainable way of accommodating mobility needs of city
denizens and visitors.
Read the full report: EMTA Report
Transport planners are starting to consider how "big data" retrieved from passenger smart cards, computers and mobile phones could improve the design of urban rail networks and timetables, and improve operations by predicting ridership. Niels van Oort, assistant professor at Delft University of Technology, and consultant at Goudappel Coffeng, explains how big data was utilised to support the business case for a proposed light rail line in Utrecht.
Read the full article: Internation Railway Journal (URL) or Internation Railway Journal (PDF)
Service reliability is an important quality characteristic in public transport. However,
in cost-benefit analyses (CBA), this quality aspect is rarely taken into account explicitly.
It is more common to calculate vehicle indicators (e.g. punctuality) instead of passenger
focused metrics. In this paper, we demonstrate how to calculate the passenger impacts of
service unreliability. In an actual case, the replacement of a bus line by a light rail line in Utrecht, we proved that our method is valuable and can be applied directly into practice.  By calculating the benefits of the improved service reliability of the proposed light rail line, which were about 2/3 of all benefits, the cost benefit ratio was positive, which convinced the Dutch Minister of Infrastructure and Environment to support the project by €110 million.
Read the full paper: RailCopenhagen 2013 Value of service reliability paper Van Oort